What is the Law Of Attraction?
&
How is it related to hypnosis?
Welcome! I'm going to explain the law of attraction and how it works. Most importantly, find out how the LOA is missing important ingredients; Self-hypnosis & Grit Application.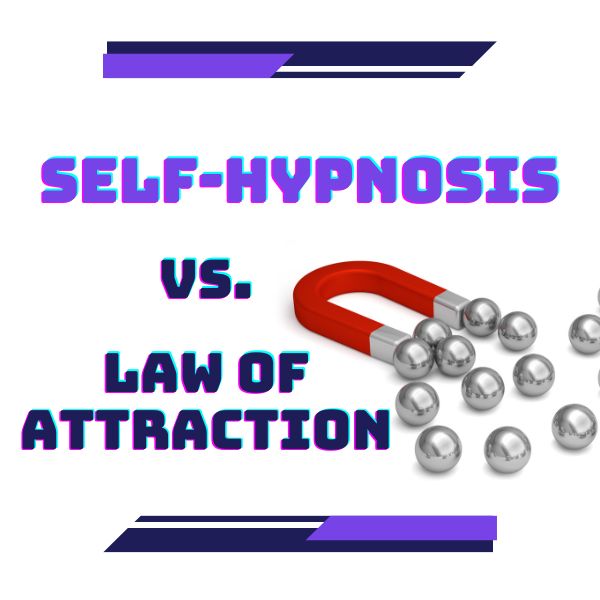 What is the law of attraction?
The law of attraction states that our thoughts and intentions have a direct impact on what happens to us in life. According to this concept, we attract into our lives whatever we focus on - whether positive or negative. As such, it's important to pay attention to our thoughts and feelings in order to manifest the reality we desire.
The theory behind the law of attraction is based on the idea that like attracts like; so if you think about something with intention and emotion, it will happen. Positive energy attracts more positive energy, and negative energy works the same way. No matter what, the law of attraction states that your thoughts create your reality - something you can use to your advantage by visualizing what you want in order to make it come true.
The law of attraction is believed to have originated from the teachings of New Thought Movement, a 19th century spiritual movement. Its underlying principles were based on the idea that our thoughts can create reality, and that individuals have the power to manifest their desires through conscious thought and intention. The concept has since been popularized by books such as The Power of Positive Thinking and The Secret which have made its ideas more accessible to a larger audience. While there is still debate about its validity, proponents of the law of attraction believe it is possible to use these principles to achieve success and create the life you desire.
How does the law of attraction work?
The law of attraction is based on the idea that like attracts like; what you focus on is attracted to you. If you focus your thoughts and energy on positive things, then you will attract more positivity into your life, while negative thoughts can manifest negative outcomes. Similarly, if you visualize something with enough emotion and intention, then the universe will work to make it a reality.
In order to use the law of attraction successfully, it's important to be mindful of your thoughts and emotions. Practicing gratitude and positive affirmations can help reprogram your subconscious mind to focus on the positive, allowing for more abundance in all aspects of your life. You should also take steps towards creating the reality you want by setting intentions and taking actionable steps towards achieving them.
Ultimately, when used correctly, the law of attraction can be an incredibly powerful tool that helps us manifest our desired realities. By paying close attention to our thoughts and feelings, as well as taking actionable steps towards our goals, we can use this principle to achieve anything we desire. This is increasing your self-awareness.
The benefits of using the law of attraction
The law of attraction can help us create a life filled with abundance, joy, and contentment. By focusing on positive thoughts, emotions, and intentions we can unlock the power within ourselves to manifest our goals and desires. When used correctly, this tool can help us attract the people, experiences, and opportunities that make us happiest.
The law of attraction also allows for greater clarity in understanding what is truly important to us. By reflecting on our desires and working towards manifesting them, we are able to gain a better understanding of what makes us happy and content in life. Through this process of self-discovery, we can create a more meaningful life that is enriched by experiences based upon our most passionate pursuits.
Overall, using the law of attraction can be incredibly empowering. It helps to open up new possibilities and opportunities that would not have otherwise been available to us. Additionally, it provides a powerful mindset shift that allows us to view the world through an optimistic lens while taking responsibility for creating our desired realities.
How to use the law of attraction in your life
Set an intention for what you want to manifest and spend time visualizing it.

Make gratitude a priority each day.

Practice positive affirmations to reprogram your subconscious mind.

Actively remove negative thoughts and replace them with positive ones.

Spend time reflecting on your desires and goals to gain clarity on what truly matters to you.

Take actionable steps towards achieving your intentions and goals, no matter how small they may be.

Pay close attention to your thoughts and feelings, as they are indicators of where the law of attraction is taking you in life.

Surround yourself with positive people who will encourage you in your pursuits and help to keep you motivated along the way.

Believe in yourself and know that anything is possible if you put in the effort and stay consistent with your practices over time..

Have an open mind - never limit yourself or the potential power of the law of attraction!
Law of Attraction is missing key ingredients that give better success
This is a great way to get more mileage out of your blogs and increase traffic. However, it's important to use the right type of content on Facebook. If you write about topics like parenting, personal finance, or food, they might not be as relevant on Facebook as other types of posts.
If you are looking to make money online, affiliate marketing has become one of the most popular. Affiliate marketing allows bloggers to earn commissions by promoting products and services from others. The blogger does not need to own any product or service to be able to promote them. All he needs is a link to the product or service which he wants to promote.
Law of Attraction is missing key ingredients that give better success;
Self-Hypnosis & Grit Application!
While the Law of Attraction is a powerful tool, it is important to remember that it alone is not enough to achieve success. The Law of Attraction does not take into account all the essential factors that are required for long-term success. Hard work, determination, and effort are all necessary components in order to reach our goals. Additionally, having a network of like-minded individuals who can provide support and encouragement will also help us stay motivated and accountable. Seek out mentors or coaches who can help guide you through the journey as well. Finally, maintaining a healthy mindset with positive thoughts and beliefs will help manifest desired events and experiences into your life.
Watch on YouTube!